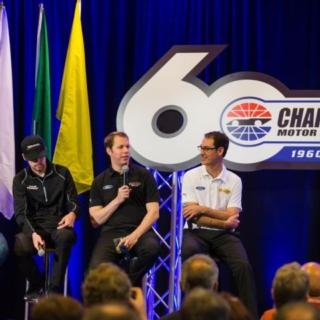 Wednesday January 29, 2020
Charlotte Motor Speedway began its historic 60th anniversary season in dynamic style on Monday, with Team Penske drivers Joey Logano, Brad Keselowski and Ryan Blaney joining Wood Brothers Racing's Matt DiBenedetto and world-class Chef Robert Irvine for a host of announcements and preseason festivities.
Recent Headlines
12/03/19

In a special grant distribution ceremony on Monday, Speedway Children's Charities (SCC) announced that the nonprofit's Charlotte Motor Speedway chapter distributed $957,323 in grants to 68 deserving charities located throughout the Charlotte region. Nationwide, Speedway Children's Charities distributed over $2.9 million across its eight chapters in 2019.

11/26/19

After getting their fill of Thanksgiving food, race fans can feel the thrill of driving on Charlotte Motor Speedway's high-banked turns when Black Friday Blowout returns from 8 a.m.-4 p.m. on Friday.

11/12/19

In honor of its unwavering commitment to saluting the United States Armed Forces, Speedway Motorsports was named the recipient of the 2019 President's Veterans Recognition Award from Coca-Cola.

10/29/19

John Jancic, a native of Cleveland, North Carolina, is no stranger to winning trophies at Charlotte Motor Speedway's Pennzoil AutoFair.
More News