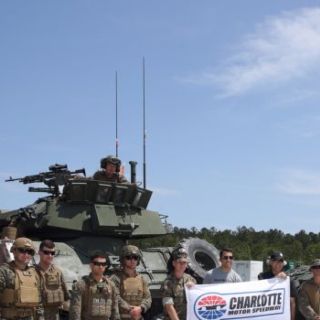 Wednesday May 17, 2023
Just 10 days before the before Charlotte Motor Speedway kicks off Memorial Day Weekend with three straight days of action-packed racing, the speedway hosted Aric Almirola for its final Mission 600 visit of the season, a day with Marines from the 2D LAR (Light Armor Reconnaissance) Battalion at Camp Lejeune.
Read More
Recent Headlines
05/11/23

As a high-octane prelude to the nation's most patriotic Memorial Day weekend celebration, Coca-Cola Racing Family driver and 2022 NASCAR Cup Series champion Joey Logano continued Charlotte Motor Speedway's Mission 600 tour with sailors at Naval Station Norfolk, the world's largest naval station, on Wednesday.

04/14/23

For three-quarters of a century, the National Association for Stock Car Auto Racing (aka NASCAR) sanctioning body has been home to countless firsts, speed records and unforgettable motorsports moments. Its continuing legacy will be celebrated during the April 13-16 AutoFair at Charlotte Motor Speedway in a special "Lane of Legends" display.

03/31/23

Things to see, things to do – for people who love cars. In just two weeks, Charlotte Motor Speedway will roll out a fan-favorite event with an all-new feel as AutoFair returns to the famed entertainment facility to celebrate all things automotive and the community that drives car culture.

03/22/23

Two of television's most recognizable custom cars from the 1960s—the Munster Koach and Drag-u-la—will frighten and delight visitors of all ages during Charlotte Motor Speedway's April 13-16 AutoFair.
More News