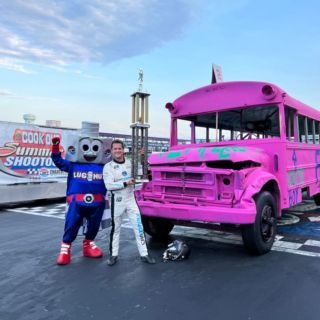 Wednesday August 03, 2022
On a night dedicated to honoring U.S. Legend Car and Bandolero champions at the Cook Out Summer Shootout, a group of former Legend racers turned NASCAR stars stole the show with a school bus slobberknocker for the ages.
Read More
Recent Headlines
07/27/22

'Twas "Christmas in July" and all through the speedway, drivers were nestled snugly in Legend Cars and Bandoleros while visions of checkered flags danced in their helmets at the Cook Out Summer Shootout presented by the NASCAR Hall of Fame.

07/22/22

– Buckle-up for a double feature of Legend Car and Bandolero Cook Out Summer Shootout racing on Monday, July 25 and Tuesday, July 26 as Charlotte Motor Speedway's grassroots racing season winds down and the on-track action heats up.

06/30/22

Tuesday was an "awfully" good night for racing and fun at Cook Out Summer Shootout at Charlotte Motor Speedway, where Landen Lewis (Boston Reid & Co. Pro division) and Olivia Murray (Outlaws) were among the drivers claiming victory during Round 5's white-knuckled excitement.

06/22/22

There were plenty of dad jokes on display for "Dad Appreciation Night" at Charlotte Motor Speedway, but when the green flag fell, it was the young guns putting on a white-knuckled showdown on the frontstretch quarter-mile at America's Home for Racing.
More News