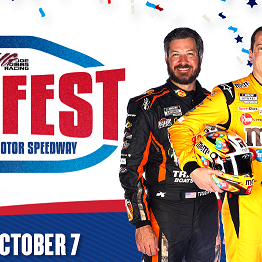 Tuesday August 30, 2022
Before the action heats up on track and NASCAR's best battle in a pivotal Playoff clash at the Bank of America ROVAL™ 400, fans at Charlotte Motor Speedway will be treated to an entertaining weekend of music, motorsports and fun in the Fan Zone. Driver appearances, fan Q&As and concerts kick off Friday, Oct. 7, with a Joe Gibbs Racing Fan Fest and NASCAR hauler parade.
Read More
Recent Headlines
08/15/22

Diamond-selling, multi-platinum, GRAMMY-winning rap superstar Nelly is set to rock the America's Home for Racing with a high-energy pre-race concert before the Bank of America ROVAL™ 400 at Charlotte Motor Speedway on Sunday, Oct. 9.

08/03/22

On a night dedicated to honoring U.S. Legend Car and Bandolero champions at the Cook Out Summer Shootout, a group of former Legend racers turned NASCAR stars stole the show with a school bus slobberknocker for the ages.

07/27/22

'Twas "Christmas in July" and all through the speedway, drivers were nestled snugly in Legend Cars and Bandoleros while visions of checkered flags danced in their helmets at the Cook Out Summer Shootout presented by the NASCAR Hall of Fame.

07/22/22

– Buckle-up for a double feature of Legend Car and Bandolero Cook Out Summer Shootout racing on Monday, July 25 and Tuesday, July 26 as Charlotte Motor Speedway's grassroots racing season winds down and the on-track action heats up.
More News