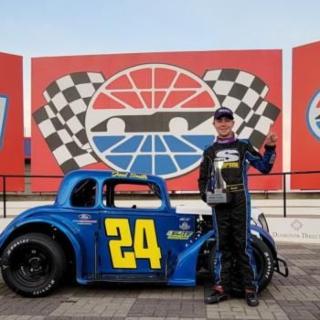 Wednesday June 22, 2022
There were plenty of dad jokes on display for "Dad Appreciation Night" at Charlotte Motor Speedway, but when the green flag fell, it was the young guns putting on a white-knuckled showdown on the frontstretch quarter-mile at America's Home for Racing.
Read More
Recent Headlines
06/14/22

Charlotte Motor Speedway's 29th season of Cook Out Summer Shootout action kicked off on Monday night, with Legend Car and Bandolero feature races joining an action-packed Mascot Mania go-kart race on the frontstretch quarter-mile oval.

06/06/22

More than five hours after the green flag and more than 16 years after his first Coca-Cola 600 start, Denny Hamlin finally left Charlotte Motor Speedway as a winner on Memorial Day weekend.

05/10/22

Fans will roar and the red, white and blue will wave before the green flag falls over the Coca-Cola 600 on May 29 at Charlotte Motor Speedway. Iconic rock band Lynyrd Skynyrd will salute America with the ultimate Memorial Day Weekend mix of rock and racing in front of a captivated audience.

04/28/22

The long-awaited return of the Circle K NHRA Four-Wide Nationals roars to life under the lights at zMAX Dragway this weekend, as Friday's Night of Fire kicks off a three-day showcase of thundering, 44,000-horsepower excitement at the Bellagio of drag strips.
More News